From small beginnings, as a Saturday afternoon get-together for photo enthusiasts around the campus pond at the University of Massachusetts, Amherst, the annual NECCC Photography Conference has grown to be one of the largest and best attended photographic conferences in the United States. It attracts upwards of a thousand people to the UMass campus for a three-day weekend of fellowship, fun, instructional programs, entertainment, and hands-on photography in studio set-ups, models (both indoors and outdoors), and various special photo opportunities. If they choose, registrants may also enter their work in friendly competition with other attendees. The New England Camera Club Council is an association of New England based camera clubs and is affiliated with the Photographic Society of America (PSA). In addition to the annual Conference, NECCC provides year-round support for New England camera club activities. NECCC also awards college scholarships to outstanding New England residents who wish to follow a career in photography and the related arts and invites a number of high school students to be guests at the Annual Conference.
Register early to get your choice for workshops, photo walks, dorms …
Lots to do – more than just PowerPoints, much to Shoot & Learn
Over 90 Teaching Programs to choose from. Top USA Speakers (most new to the NECCC conferences)

13 pre-conference workshops!

45 hands-on opportunities!

Interact with Other Photographers
Trade Show-Vendor Demos
Camera/Lens Loaning
Participate in Hands-on Workshops
Photograph Models (Female and Character)
Photo-Ops Galore: Photograph Animals, Flowers, Food, Still Life, Glass, Props, etc.
Image Reviews
Print and Digital Competitions
You should also register online to ensure that they get their choice of housing, Pre-Conference Workshop, Photo Shoots, Photo Walks, etc. Select "3-Day Group Registration" when prompted for a registration type.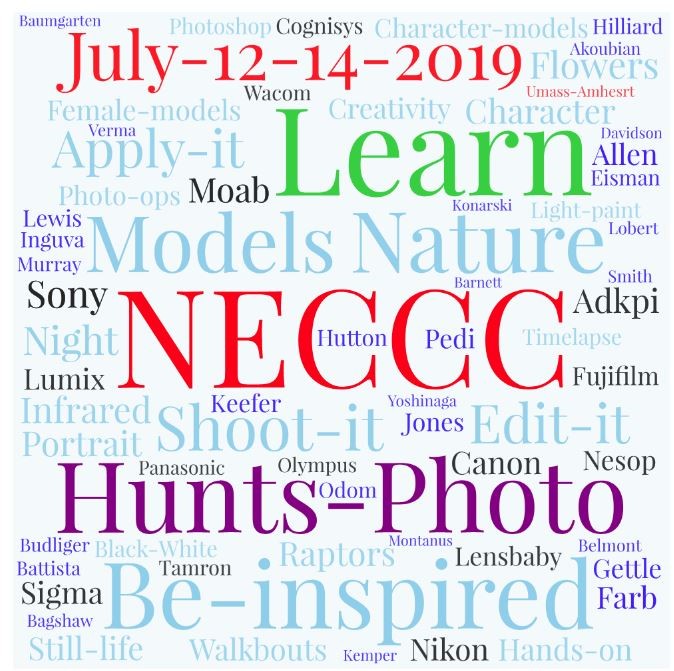 Photo Ops
Friends
Learning
| Title | Categories | Content | Tags |
| --- | --- | --- | --- |
| Come Learn Your Menu – Sony | Sessions, Workshop | When Sat 4:00 pm Where TBD Bring Sony Camera Type Workshop Skill All Speaker TBD TBD Sony Events | Hands-on, Skill:All, Sony |
| Come Learn Your Menu – Panasonic Lumix | Sessions, Workshop | When Sat 2:15 pm Where TBD Bring Panasonic Lumix Camera Type Workshop Skill All Speaker TBD TBD Panasonic Lumix Events | Hands-on, Panasonic Lumix, Skill:All |
| Come Learn Your Menu – Fujifilm | Sessions, Workshop | When Sat 4:00 pm Where TBD Bring Fujifilm Camera Type Workshop Skill All Speaker TBD TBD Fujifilm Events | Fujifilm, Hands-on, Skill:All |
| Come Learn Your Menu – Nikon | Sessions, Workshop | When Sat 2:15 pm Where TBD Bring Nikon Camera Type Workshop Skill All Speaker TBD TBD Nikon Events | Hands-on, Nikon, Skill:All |
| Come Learn Your Menu – Olympus | Sessions, Workshop | When Sat 4:00 pm Where TBD Bring Olympus Camera Type Workshop Skill All Speaker TBD TBD Olympus Events | Hands-on, Olympus, Skill:All |
| Come Learn Your Menu – Canon | Sessions, Workshop | When Sat 2:15 pm Where TBD Bring Canon Camera Type Workshop Skill All Speaker TBD TBD Canon Events | Canon, Hands-on, Skill:All |
| Creative Flower Photography – Part 2 | Creativity, Sessions | When TBD Where TBD Bring – Type Session Skill All Speaker Padma Inguva Padma will share information about some of her techniques in creating stunning flower portraits. Some of these techniques include selective focus, back lighting, bokeh, … | Padma Inguva, Skill:All |
| Ask a question | Event | Under construction | |
| Maps | Event | The Lincoln Campus Center is the focal point of the conference. The Registration Desk and Hospitality Table are located on the main level. The University Bookstore, Blue Wall Café and several … | |
| Why Me | Event | From small beginnings, as a Saturday afternoon get-together for photo enthusiasts around the campus pond at the University of Massachusetts, Amherst, the annual NECCC Photography Conference has grown to be … | |
| Westcott | Sponsors | Visit Westcott – Lighting Equipment TBD Westcott Events | Westcott |
| Tamron | Sponsors | Visit Tamron – Powerful Performance That Exceeds Your Imagination TBD Tamron Events | Tamron |
| Sony | Sponsors | Visit Sony – #CaptureTheMoment TBD Sony Events | Sony |
| Sigma | Sponsors | Visit Sigma – Make Your Masterpiece TBD Sigma Events | Sigma |
| Register | Event | Click Here To Register Online Important notes All photo enthusiasts are welcome! You do not need to be a member of a Camera Club, Professional Photographers of America or Meetup group … | Register |
| Precision Camera | Sponsors | Visit Precision Camera – We Know Your Camera Precision Camera in Enfield, CT is pleased to offer a free Camera Testing Clinic on your digital & film-based photographic equipment. Precision … | Precision Camera |
| Panasonic Lumix | Sponsors | Visit Panasonic Lumix – Full Frame Without Compromise TBD Panasonic Lumix Events | Panasonic Lumix |
| Olympus | Sponsors | Visit Olympus – Smaller, Faster, Sharper TBD Olympus Events | Olympus |
| Nikon | Sponsors | Visit Nikon – Bring Your Creative Vision to Life | Nikon |
| New England School of Photography | Sponsors | Visit NESOP – It's Better Behind the Camera TBD New England School of Photography Events | NESOP |
| Lensbaby | Sponsors | Visit Lensbaby – Be bold. Fuel your passion. TBD Lensbaby Events | Lensbaby |
| Hunt's Photo & Video | Sponsors | Visit Hunt's Photo & Video TBD Hunt's Photo & Video Events | Hunt's Photo & Video |
| Fujifilm | Sponsors | Visit Fujifilm – Value from Innovation TBD Fujifilm Events | Fujifilm |
| Delkin Devices | Sponsors | Visit Delkin Devices – Superior Memory Trusted by Career Photographers TBD Delkin Devices Events | Delkin |
| Datacolor | Sponsors | Visit Datacolor – Show Your True Colors TBD Datacolor Events | Datacolor |
| All Conference Sessions & Activities | Event | Click on links in Title, Categories & Tags columns | |
| Cognisys | Sponsors | Visit Cognisys – Capture the Hidden World TBD Cognisys Events | Cognisys |
| Canon | Sponsors | Visit Canon USA TBD Canon Events | Canon |
| Adirondack Photography Institute | Sponsors | Visit ADKPI – Adirondack Photography Institute TBD Adirondack Photography Institute Events | ADKPI |
| Character Models Competition | Event | When July 12 to TBD UploadURL TBD WhatYour processed model photos Type Competition Skill All Speaker If you have a problem with your submission for the competition or questions regarding the competition, please email … | Character Models, Competition, Skill:All |
| Female Models Competition | Event | When July 13 to TBD UploadURL TBD WhatYour processed model photos Type Competition Skill All Speaker If you have a problem with your submission for the competition or questions regarding the competition, please email … | Competition, Female Models, Skill:All |
| Female Models Photo Op | Activities, Photo Ops | When Sat 9:00 am – 12:00 pm, Sat 1:00 pm – 5:00 pm, Sun 9:00 am – 11:30 am Where Indoor – Campus Center Lower Level, rooms TBDOutside – potential locations Church, … | Female Models, Hands-on |
| Raptors Photo Op | Activities, Photo Ops | When Fri 1:00 pm – 5:00 pmWhere TBDBring Camera. Tamron will be loaning lens at event.Type Photo Op Skill All Speaker Sponsored by Tamron Borrow a Tamron lens. Photo Ops | Hands-on, Skill:All, Tamron |
| Still Life, Mylar reflections, Underwater Flowers … Photo Op | Activities, Photo Ops | When TBD Where Campus Center Lower Level Bring Camera Type Photo Op Skill All Speaker Chris Germain, MNEC and Barbara Rozavsky, HonNEC Photograph a changing variety of subjects. Photo Ops | Hands-on, Skill:All |
| Character Models Photo Op | Activities, Photo Ops | When Fri 12:00 pm – 5:00 pm, Sat 9:00 am – 2:00 pm. Stop by anytime. Where TBD Bring Camera Type Photo Op Skill All Speaker Models sponsored by Sigma. Lights sponsored by Westcott. Indoor – … | Character Models, Hands-on, Marc Farb, Sigma, Skill:All, Westcott |
| Character Models Interactive Demo | Activities, Camera & Lens Loaning, Photo Ops | When Fri 6:00 pm – 8:00 pm. Stop by anytime. Where TBD Bring Camera. Sigma will have lenses to try out. Type Photo Op Skill All Speaker Marc Farb. Models sponsored by Sigma. Lights sponsored by Westcott. … | Character Models, Hands-on, Marc Farb, Sigma, Skill:All, Westcott |
| Digital Competition | Activities | When Submit: Online before Jul 7, at conference Fri 12:00 pm – 4:00 pm Judging: Sat 1:30 pm Report Cards Pickup: Sun 8:00 am – 10:00 am Award Medals Pickup: Sun 11:30 … | Competition |
| Competition Awards Ceremony | Activities | When Sun 11:30 am Where TBD Bring – Type CompetitionSkill All Winning entries in the Print Competition and the Digital Competition will be shown at the NECCC Conference and Inter-Club Competition Awards Ceremony on Sunday … | Awards, Competition |
| Kathy Macpherson Baca | Speakers | Kathy Macpherson Baca New York Learn More TBD Kathy Macpherson Baca Events | Kathy Macpherson Baca |
| Learn Macro Photography – How to Photograph Insects | Pre-Conference, Sessions, Workshop | When Fri 8:30 am – 11:30 am Where TBD Bring Camera DSLR or MirrorlessType Pre-Conference Workshop – #13 Skill All Speaker Kathy Macpherson Baca. Lens and insects sponsored by Sigma.Cost $70, after Jun 21 $90 Photograph insects. Learn about … | Hands-on, Kathy Macpherson Baca, Sigma, Skill:All |
| Maximum Depth of Field – Using Focus Stacking and Bracketing | Pre-Conference, Sessions, Workshop | When Fri 8:30 am – 11:30 am Where TBD Bring SD card Type Pre-Conference Workshop – #7 Skill All Speaker Peter BaumgartenCost $70, after Jun 21 $90 Anyone who has worked with a macro lens recognizes that it can … | Hands-on, Peter Baumgarten, Skill:All |
| A Morning with the Butterflies and Flowers | Pre-Conference, Sessions, Workshop | When Fri 6:45 am – 9:00 am Where TBD Bring Camera Type Pre-Conference Workshop – #3 Skill All. You must be able to stand during the second portion of this workshop. Speaker Anne Belmont. Sponsored by Lensbaby. Cost $70, after Jun 21 … | Anne Belmont, Hands-on, Lensbaby |
| Call for Models | Event | TBD Female Model Events | Female Models |
| Model Activities Timetable | Event | TBD Female Model Events | Female Models |
| Female Model Application | Event | Click to download Word application form TBD TODO – convert to form CONTACT INFORMATION: Name: Street: Apt. #: City/Town: State: Zip Code: Cell #: Work #: Home #_______________ Age: Height: … | Female Models |
| Schedule | Event | Please visit this page later. The conference schedule drafts begin appearing in May. All Conference Sessions & Activities Click on links in Title, Categories & Tags columns        | |
| Conference Guildlines | Event | NECCC has developed guidelines to maximize your enjoyment of the conference. Taking the time to read these will allow for a better experience for everyone. The website has a Campus … | |
| Speaker's Notes | Event | The Speakers' notes will be available in two formats. A link to a free online version of the speakers' notes will be sent to all registered attendees one week prior … | |
| Camera Testing Clinic | Activities | When Sat 9:30 am – 4:30 pm. Stop by anytime.Where Campus Center 904 – 908 Speaker Precision Camera Dave Marsh & technicians from Precision Camera, Enfield CT are pleased to offer a … | Precision Camera |
| Keynote – The Power and Passion of Photography | Activities | When Sat 7:00 pmWhere Fine Arts CenterSpeakerKristi Odom As story collectors sometimes we become the story. How we got the shot, the journey, our passions, even close calls with life itself. In … | Keynote, Kristi Odom |
| Mastering Luminosity Masks | Pre-Conference, Sessions, Workshop | When Fri 8:30 am – 11:30 am Where TBD Bring Computer with Photoshop with TK Actions Free Panel plugin Type Pre-Conference Workshop – #5 Skill Advanced Speaker Sean Bagshaw Cost … | Hands-on, Sean Bagshaw, Skill:Advanced |
| Night Photo Shoot – Car Light Painting Demo Post-Processing | Creativity, Digital, Sessions | When Sun Where TBD Bring – Type Session Skill Intermediate Speaker Jerry Keefer and Lori Keefer This is a follow-up opportunity to learn how to post-process the photos captured on … | Jerry Keefer, Lori Keefer, Photoshop |
| Night Photo Shoot – Car Light Painting Interactive Demo | Activities, Creativity, Photo Ops | When Fri 8:30 pm Where Flint Circle Bring Camera and Tripod Type Photo Op Skill All Speaker Jerry Keefer and Lori Keefer Join Jerry & Lori as they light paint … | Hands-on, Jerry Keefer, Lori Keefer |
| Food & Still Life with Gerri Jones Photo Op | Activities, Photo Ops | When Sun 9:00 am – 12:00 pm. Stop by anytime. Where Campus Center Lower Level Bring Camera Type Photo Op Skill All Speaker Gerri Jones Food and other still life … | Gerri Jones, Hands-on |
| Floral Portraits with Padma Inguva Photo Op | Activities, Photo Ops | When Sat 12:00 pm – 4:00 pm. Stop by anytime. Where Campus Center Lower Level Bring Camera Type Photo Op Skill All Speaker Padma Inguva This is a follow-up opportunity … | Hands-on, Padma Inguva |
| Flowers with Anne Belmont Photo Op | Activities, Photo Ops | When Sat 9:00 am – 1:00 pm. Stop by anytime. Where Campus Center Lower Level Bring Camera. Lensbaby lens will be available to try out. Type Photo Op Skill All … | Anne Belmont, Hands-on, Lensbaby |
| Still Life with Mark Battista Photo Op | Activities, Photo Ops | When Sat 1:30 pm – 4:30 pm. Stop by anytime. Where Campus Center Lower Level Bring Camera and tripod Type Photo Op Skill All Speaker Mark Battista This is a … | Hands-on, Mark Battista |
| Bob Watts | Speakers | Bob Watts ANEC Maine Learn More Bob is in his 35th year with Nikon as a District Account Manager for New England. Bob is an active photographer and known as Mr. Nikon in … | Bob Watts, Nikon |
| C. David Tobi | Speakers | C. David Tobi Maine Learn More David has been involved in color management and digital imaging from their early days. David has worked to see affordable color solutions put in place for … | C. David Tobi, Datacolor |
| Frank T. Smith | Speakers | Frank T. Smith Pennsylvania Learn More Olympus Visionary Frank Smith is a self-taught photographer whose love for the craft goes back to a very early age. Decades later, Frank's passion for photography … | Frank T. Smith |
| Jenn Sherry | Speakers | Jenn Sherry Maryland Learn More Jenn is the Sales & Marketing Manager for Delkin Devices. She's been with Delkin for the past 10years in various roles. She enjoys travel and street photography … | Delkin, Jenn Sherry |
| Chris Murray | Speakers | Chris Murray New York Learn More Chris is a fine-art nature photographer, instructor, and writer working primarily in the landscape of his home, the woods, lakes, mountains, and streams of New York … | ADKPI, Chris Murray |
| Michael Koren | Speakers | Michael Koren Maryland Learn More Michael is a free-lance sports and event photographer in the Baltimore Washington area specializing in youth sports game action and team portraits. Michael's passion for photography is … | Michael Koren |
| Jamie Konarski Davidson | Speakers | Jamie Konarski Davidson North Carolina Learn More Jamie is an award-winning outdoor & nature photographer with a passion for capturing and sharing intimate details of nature and landscapes. She embraces creative techniques … | Jamie Konarski Davidson |
| Lewis Kemper | Speakers | Lewis Kemper California Learn More Lewis is widely recognized as a photographer, writer, and instructor, lecturing throughout the USA. He currently is a Contributing Editor to Outdoor Photographer. Books include, … | Lewis Kemper |
| Lori Keefer | Speakers | Lori KeeferPennsylvaniaLearn More Lori is an entrepreneur, educator, story teller, wife/mother and volunteer. Lori has served on 4 different PTA boards, designed & photographed the yearbook for elementary for 3+ … | Lori Keefer |
| Jerry Keefer | Speakers | Jerry KeeferPennsylvaniaLearn More Jerry is an entrepreneur, power engineer, educator, and artist. Jerry has worked extensively in the Power Industry since graduating high school. From the United States Air Force … | Jerry Keefer |
| Gerri Jones | Speakers | Gerri Jones New York Learn More Gerri became interested in digital photography in 2000 as a creative outlet. She soon discovered that Buffalo/Niagara was a great area to photograph any subject throughout … | Gerri Jones |
| Adam Jones | Speakers | Adam Jones Kentucky Learn More Adam's award-winning images are widely published in magazines, posters, calendars, books, and in national advertising campaigns around the world such as: Canon, Ford, Eddie Bauer, Miller Beer, … | Adam Jones, Canon |
| Padma Inguva | Speakers | Padma Inguva New Jersey Learn More As an avid gardener and a graduate of Civil Engineering, she has managed to incorporate the two disciplines into fine art form of photography. While her … | Padma Inguva |
| Mark Hilliard | Speakers | Mark HilliardSouth CarolinaLearn More Mark is an educator in all things photographic and a lifelong (55 years) Landscape, Wildlife & Fine Art Photographer. Mark has a deep technical background in … | Mark Hilliard |
| Marc Farb | Speakers | Marc Farb New York Learn More Marc is a Technical Representative for Sigma. For Marc, photography is more than just a job, or a way to earn a steady income; it is … | Marc Farb, Sigma |
| Katrin Eismann | Speakers | Katrin Eismann New York Learn More Katrin specializes in interpretive travel, still life and portrait photography. She is an internationally respected artist, teacher, and author of Photoshop Restoration & Retouching, Photoshop Masking … | Katrin Eismann, Sony |
| Anne Belmont | Speakers | Anne Belmont Illinois Learn More As a flower photographer, Anne's greatest passion lies in seeing and capturing the beauty of flowers and other botanical subjects upclose. It is the small, often … | Anne Belmont, Lensbaby |
| Daniel Charbonnet | Speakers | Daniel Charbonnet HonPSA, EPSA, MNEC Massachusetts Learn More Dan is one of the 2018 Print Competition judges. Very active in the Photographic Society of America (PSA) and NECCC, he currently serves as … | Daniel Charbonnet |
| Sean Bagshaw | Speakers | Sean Bagshaw Oregon Learn More Sean is an outdoor photographer, digital image developing enthusiast and photography educator based in Ashland, Oregon, where he resides with his wife and two sons. In the … | Sean Bagshaw |
| Suzette Allen & Jon Yoshinaga | Speakers | Suzette Allen & Jon Yoshinaga California Learn More Suzette is a long- time Photoshop instructor (18 yrs) and Hybrid pioneer who continues to reinvent herself to stay current with the changing landscape … | Jon Yoshinaga, Panasonic Lumix, Suzette Allen |
| David Akoubian | Speakers | David Akoubian Georgia Learn More David has been a photographer since 1972 when his father presented him with his first camera, but his career in photography started in 1992. David learned his … | David Akoubian, Tamron |
| Jacob Mosser | Speakers | Jacob Mosser FPSA, EPSA, HonNEC Massachusetts Learn More Jake has been obsessed with photography for the past 45 years and has earned top honors from the Photographic Society of America (PSA), NECCC and … | Jacob Mosser |
| Sarah Musumeci | Speakers | Sarah Musumeci Massachusetts Learn More Sarah is a member of the Merrimack Valley Camera Club She has been taking photos for most of her life, but in the last ten years her … | Sarah Musumeci |
| Karen Hutton | Speakers | Karen Hutton Nevada Learn More Karen is a Professional Fujifilm X Photographer, International Landscape and Travel Photographer, Voice. Through stunning imagery, humor, thought-provoking ideas and a genuinely positive outlook, she … | Fujifilm, Karen Hutton |
| Ed Pedi | Speakers | Ed Pedi Massachusetts Learn More Ed is a Photographer, Mentor and Author. He holds the degrees of M. Photog. Cr. CPP and he is a PPA approved Juror. He is a past … | Ed Pedi |
| Mark Battista | Speakers | Mark Battista Connecticut Learn More Mark is a fine artist, illustrator and photographer. He graduated from Paier College of Art in 1985 with a B.F.A . After working for several years as … | Mark Battista |
| Jim Montanus | Speakers | Jim Montanus New York Learn More Jim went from being a corporate marketing manager to becoming one of the most recognizable photography brands in Rochester within just two years. Jim was … | Jim Montanus |
| Steve Gettle | Speakers | Steve Gettle Michigan Learn More Over the course of his 30-year career, Steve has spent countless hours creating hundreds of thousands of photographs capturing nature's beauty around us. Steve's images … | Cognisys, Steve Gettle |
| Kurt Budliger | Speakers | Kurt Budliger Vermont Learn More Kurt is a professional outdoor photographer and educator based in northern Vermont. His photographs and articles have appeared in numerous books, calendars, advertising campaigns, magazines … | Kurt Budliger |
| Elizabeth (Lisa) Ryan | Speakers | Elizabeth (Lisa) RyanMassachusettsLearn More TBD BFA , Pratt Institute of Art Founding member Images Group Co-organizer Greater Boston Night Photographers Judge, speaker, teacher Greater Boston area. Also see www.imagesgroup.photos/Lisa Elizabeth Ryan … | Elizabeth (Lisa) Ryan |
| Jürgen Lobert | Speakers | Jürgen Lobert Massachusetts Learn More Jürgen is a Massachusetts-based fine art photographer born and raised in Germany. He received a Ph.D. in atmospheric chemistry from Gutenberg University in Mainz before moving to the US in … | Jürgen Lobert, NESOP |
| Peter Baumgarten | Speakers | Peter Baumgarten Ontario Learn More Peter is a professional photographer and educator living on Manitoulin Island in Northern Ontario. He regularly leads photography courses and workshops for novice and enthusiast photographers and … | Olympus, Peter Baumgarten |
| Shiv Verma | Speakers | Shiv Verma APSA, MNEC Massachusetts Learn More Shiv is a published author, photographer, educator and technologist. He is a Panasonic Lumix Global Ambassador, an X-Rite Coloratti and a Master at the Arcanum. He … | Shiv Verma |
| William Barnett | Speakers | William Barnett APSA, GMPSA, AFIAP, MNEC Connecticut Learn More Bill is a frequent lecturer and judge for camera clubs throughout New England. He is a member of the Photographic Society of America … | William Barnett |
| Conference Timetable | Event | Sign in for Pre-Conference workshops Fri 8:00 am Pre-Conference workshops Fri 8:30 am – 11:30 am Conference RegistrationFri 8:00 am – 5:00 pm, Sat 7:30 am – 12:00 pm Scheduling … | |
| First Time Attendees | Activities | When Stop by for a few minutes anytime Fri 10:00 am – 4:00 pmWhere UPUB on Main Concourse Level of the Campus CenterBring Your questionsSpeakerAntoinette Gombeda, APSA, HonNEC from Connecticut Join us even if … | |
| Print Competition | Activities | When Dropoff: Fri 10:00 am – 8:00 pm, Sat 8:00 am – 12:00 pmJudging: Sat 1:00 pmView Winners: Sat 9:00 pm – 10:30 pm, Sun 8:00 am – 1:00 pmPickup: Sun … | Competition, Jacob Mosser, Jerry Keefer, Kurt Budliger |
| Door Prize Extravaganza | Activities | When Entry:Drawing:Where Main Level of the Campus Center Come to the conference and you may go home with a brand-new camera or lens or another great prize from NECCC, our sponsors and … | Door Prizes |
| Camera & Lens Loaning | Activities, Camera & Lens Loaning | When Fri 12:00 pm – 5:00 pm, Sat 8:00 am – 4:00 pm, Sun 8:30 am – 9:30 pm Where Vendor Tables in the Lower Level of the Campus Center BringDriver's License, Credit Card Skill All Speaker Canon, Fujifilm, Lensbaby, Nikon, Olympus, Panasonic … | Canon, Fujifilm, Nikon, Olympus, Panasonic Lumix, Sigma, Sony, Tamron |
| Rad A. Drew | Speakers | Rad A. Drew Indiana Learn More Rad is an acclaimed photographer, teacher, and tour leader from Indianapolis, Indiana. He makes photographs with mirrorless and infrared cameras and assorted iPhones, and … | Rad Drew |
| Lighting and Posing for Family Portraits | Portrait, Sessions | When Planning two sessions Where TBD Bring – Type Session Skill All Speaker Ed Pedi TBD Ed Pedi Events | Ed Pedi, Nikon |
| Light This – Learn Studio Lighting and Outdoor Lighting | Portrait, Sessions | When TBD Where TBD Bring – Type Session Skill All Speaker Jim Montanus. Sponsored by Nikon. TBD Jim Montanus Events | Jim Montanus, Nikon, Skill:All |
| Characters Portraits | Portrait, Sessions | When Planning three sessions Where TBD Bring Camera Type Session Skill All Speaker Marc Farb. Sponsored by Sigma & Westcott. Try out a bunch of Sigma lenses as you take photographs of Character Models. For example, explore Sigma's … | Character Models, Hands-on, Marc Farb, Sigma, Skill:All, Westcott |
| Mobile Phone Editing for Creative Expression | Mobile device, Sessions | When TBD Where TBD Bring Mobile device Type Session Skill All Speaker Michael Koren Learn how to create a photograph that's an artistic expression unique to your vision using editing apps. You'll learn that apps are simple and … | Michael Koren, Skill:All |
| Fun with Mobile Phone Photography | Mobile device, Sessions | When TBD Where TBD Bring Mobile device Type Session Skill All Speaker Michael Koren Learn to use the camera that's always with you and go beyond taking a simple snapshot to creating a photograph that's an artistic expression … | Michael Koren, Skill:All |
| Snapseed Tips and Tricks | Mobile device, Sessions | When TBD Where TBD Bring Mobile device Type Session Skill All Speaker Rad A. Drew Explore the rich app Snapseed! Rad will share his workflow and show how he uses Snapseed as the first step in creating, … | Rad Drew, Skill:All |
| Creative Editing on Your iPhone | Mobile device, Sessions | When TBD Where TBD Bring iPhoneType Session Skill All Speaker Rad A. Drew Rad will demonstrate how to create images that have vintage looks, moody tones, dreamy glows, and a host of other artistic "looks." I'll demonstrate the … | Rad Drew, Skill:All |
| Into the Eye of the Sun – Creating Natural Looking HDR Images | Digital, Sessions | When Planning two sessions Where TBD Bring – Type Session Skill Intermediate Speaker Lewis Kemper Learn how to create natural looking HDR images. The program covers all aspects of HDR photography from capture to output. You will learn … | Lewis Kemper, Skill:Intermediate |
| Artistry Beyond the Lens | Digital, Sessions | When Planning two sessions Where TBD Bring – Type Session Skill Intermediate Speaker Gerri Jones Transform your ordinary images into works of art using textures. This technique will teach you how to "paint" your images with the look … | Gerri Jones, Photoshop, Skill:Intermediate |
| Photoshop Fun – Workflow & Composites in Photoshop | Digital, Sessions | When Planning two sessions Where TBD Bring – Type Session Skill Intermediate Speaker Adam Jones. Sponsored by Canon. Adam will show you his basic workflow and how to easily select the right images for creating basic double exposures … | Adam Jones, Canon, Photoshop, Skill:Intermediate |
| Professional Masking & Compositing | Digital, Sessions | When TBD Where TBD Bring – Type Session Skill Advanced Speaker Katrin Eismann. Sponsored by Sony. Learn how to make fine-detailed selections without ripping your own hair! This lively session will show you numerous techniques to … | Katrin Eismann, Photoshop, Skill:Advanced, Sony |
| Partners for Life – Photoshop & Lightroom | Digital, Sessions | When TBD Where TBD Bring – Type Session Skill Intermediate Speaker Katrin Eismann. Sponsored by Sony. For an efficient and more importantly enjoyable image workflow it's important to know when to work with Lightroom Classic or … | Katrin Eismann, Lightroom, Photoshop, Skill:Intermediate, Sony |
| Creating Painterly & Vintage Images in Topaz Studio | Digital, Sessions | When Planning two sessions Where TBD Bring – Type Session Skill Intermediate Speaker Rad A. Drew Transform your photographs into paintings and vintage-looking images with Topaz Studio. Explore a host of effects and adjustments including … | Rad Drew, Skill:Intermediate, Topaz Labs |
| Photoshop – Developing for Impact | Digital, Sessions | Type Session When Planning two sessions Where TBD Bring – Skill Advanced Speaker Sean Bagshaw In the age of digital photography, Photoshop is the ultimate digital darkroom. In this session … | Photoshop, Sean Bagshaw, Skill:Intermediate |
| Developing for Extended Dynamic Range | Digital, Sessions | When Planning two sessions Where TBD Bring – Type Session Skill All Speaker Sean Bagshaw In this session, Sean will begin with a short lesson on how to quickly evaluate the dynamic range of a scene and … | Photoshop, Sean Bagshaw, Skill:Intermediate |
| Make the Magic! Composites with Complexity & Creativity | Digital, Sessions | When Double length session Where TBD Bring – Type Session Skill All Speaker Suzette Allen & Jon Yoshinaga. Sponsored by Panasonic Lumix. Compositing is a modern-day skill that is vital to photographers, whose imaginations (and … | Jon Yoshinaga, Panasonic Lumix, Skill:All, Suzette Allen |
| The Subjective Landscape | Nature, Sessions | When TBD Where TBD Bring – Type Session Skill All Speaker Chris Murray. Sponsored by ADKPI. There are two classes of landscape photography being practiced today that yield not only different results, but also vary in approach … | ADKPI, Chris Murray, Skill:All |
| Macro – How to photograph insects | Nature, Sessions | When Sat 8:00 am – 11:30 am Where TBD Bring – Type Session Skill All Speaker Kathy Macpherson Baca. Sponsored by Sigma. TBD Kathy Macpherson Baca Events | Kathy Macpherson Baca, Onsite Loaning, Sigma, Skill:All |
| Astro-Landscape Photography | Nature, Sessions | When TBD Where TBD Bring – Type Session Skill Intermediate Speaker Jürgen Lobert. Sponsored by NESOP. This is a technical & instructional intro to astro-landscape photography. Astro-landscapes capture the night sky with an Earth-bound foreground to … | Jürgen Lobert, NESOP, Skill:All |
| Getting the Most out of your Wildlife and Nature Photos | Nature, Sessions | When Planning two sessions Where TBD Bring – Type Session Skill All Speaker Adam Jones. Sponsored by Canon. Get it right in the field with tried and true techniques for the wildlife and landscapes photographer. Adam Jones … | Adam Jones, Canon, Skill:All |
| Moving in Closer – Advanced Macro Photography | Nature, Sessions | When Two sessions planned Where TBD Bring – Type Session Skill All Speaker Steve Gettle. Sponsored by Cognisys. A beautiful new world opens up when we move in beyond 1:1 (1:1 = a full frame shot … | Cognisys, Skill:All, Steve Gettle |
| A New World Opens – Getting Started in Macro Photography | Nature, Sessions | When Planning two sessions Where TBD Bring – Type Session Skill All Speaker Steve Gettle. Sponsored by Cognisys. In this talk Steve will speak about how to use basic equipment to make beautiful images of things … | Cognisys, Skill:All, Steve Gettle |
| Go with the Flow – Create Dynamic Images of Moving Water | Nature, Sessions | When Planning two sessions Where TBD Bring – Type Session Skill Intermediate Speaker Kurt Budliger Creating dynamic images of flowing water is one of the most challenging and rewarding types of outdoor photography. From composition and … | Kurt Budliger, Skill:All |
| Astrophotography – Photographing the Beauty of the Night Sky | Nature, Sessions | When Planning two sessions Where TBD Bring – Type Session Skill All Speaker Peter Baumgarten. Sponsored by Olympus. The night sky holds fascination for many people. Astrophotography is often regarded as one of the more challenging styles … | Olympus, Peter Baumgarten, Skill:All |
| Photographing the Great Outdoors, An Exploration of Nature Photography | Nature, Sessions | When Planning two sessions Where TBD Bring – Type Session Skill All Speaker Peter Baumgarten. Sponsored by Olympus. The great outdoors offers some amazing photo opportunities. Paddle & hike along with Peter as he discusses the challenges … | Olympus, Peter Baumgarten, Skill:All |
| Creating Successful Landscape Images | Nature, Sessions | When TBD Where TBD Bring – Type Session Skill All Speaker David Akoubian. Sponsored by Tamron. David will discuss how arranging the elements within the image through lens selection, angle of view and how light effects … | David Akoubian, Skill:All, Tamron |
| Capturing the Wild | Nature, Sessions | When Planning two sessions Where TBD Bring – Type Session Skill All Speaker David Akoubian. Sponsored by Tamron. From close-up and macro, to long-range birds in flight, you'll learn techniques to improve your images of scenery … | David Akoubian, Skill:All, Tamron |
| Create your own Photography Oasis | Nature, Sessions | When TBD Where TBD Bring – Type Session Skill All Speaker David Akoubian. Sponsored by Tamron. The Certified Backyard Wildlife Habitat is a program that encourages people to manage their gardens & yards as a wildlife … | David Akoubian, Skill:All, Tamron |
| Video for Photographers and Videographers | General Interest, Sessions | When Double length session Where TBD Bring – Type Session Skill All Speaker Shiv Verma APSA, MNEC This is a double session that covers all basic aspects of video creation: Equipment for video & how to best … | Shiv Verma, Skill:All |
| Color Management for Fine Art Printing | General Interest, Sessions | When Planning two sessions Where TBD Bring – Type Session Skill All Speaker C. David Tobi. Sponsored by DataColor. Color management is a critical component of image capture, editing, and output. This presentation will focus on display … | C. David Tobi, Datacolor, Skill:All |
| Light Perfected – Travel Photography | General Interest, Sessions | When TBD Where TBD Bring – Type Session Skill Intermediate Speaker Frank Smith From the most remote regions around the globe to the local Saturday trips, Frank captures imagery through perfecting the light of the day. … | Frank T. Smith, Skill:All |
| Memory Cards, SSD, Backing Up, & Sensor Cleaning | General Interest, Sessions | When Planning double session Where TBD Bring – Type Session Skill All Speaker Jenn Sherry. Sponsored by Delkin. TBD Jenn Sherry Events | Delkin, Jenn Sherry, Skill:All |
| How to Create Stunning Night Photographs | General Interest, Sessions | When TBD Where TBD Bring – Type Session Skill All Speaker Jim Montanus. Sponsored by Nikon. From fireworks pictures on the fourth of July to lightning storms. Learning how to do night photography opens up a whole new … | Jim Montanus, Nikon, Skill:All |
| The Incredible Life of Legendary Kodak Photographer Neil Montanus | General Interest, Sessions | When TBD Where TBD Bring – Type Session Skill All Speaker Jim Montanus. Sponsored by Nikon. From photographing under the seas to the top of mountain ranges, Neil Montanus traveled the globe, photographing the world's most beautiful & … | Jim Montanus, Nikon, Skill:All |
| Exploring Street Photography | General Interest, Sessions | When Planning two sessions Where TBD Bring – Type Session Skill All Speaker Michael Koren This class will explore the unique aspects of the street photography genre. Michael will be your guide as you learn about street … | Michael Koren, Skill:All |
| How to Brand Yourself to Sell Photos & Entice Clients | General Interest, Sessions | When Planning two sessionsWhere TBD Bring – Type Session Skill All Speaker Lori Keefer Lori will talk about how personal branding through her Story Session technique can help you attract clients that have similar interests and build … | Lori Keefer, Skill:All |
| Creating Stunning Vertoramas of Architectural Interiors in HDR | General Interest, Sessions | When Double length session Where TBD Bring – Type Session Skill Advanced Speaker Padma Inguva Padma will demonstrate her workflow used to create her stunning vertoramas of museums, churches, cathedrals, etc. Topics include HDR (high … | Padma Inguva, Skill:Advanced |
| Story, Art and the Power of Awe: Creating Signature Images from Truth and Soul | General Interest, Sessions | When TBD Where TBD Bring – Type Session Skill All Speaker Karen Hutton. Sponsored by Fujifilm. Producing signature work in photography sets you apart as an artist; it identifies your work as having a unique "voice". Come … | Fujifilm, Karen Hutton, Skill:All |
| Art of Black & White Digital & Film Photography and Travel | General Interest, Sessions | When TBD Where TBD Bring – Type Session Skill All Speaker Mark Hilliard Learn not only how to visualize and capture ethereal and moody B&W images in the camera in both digital and film, but also the … | Lightroom, Mark Hilliard, Nik, Photoshop, Skill:All |
| Camera to Sharing without a Computer | General Interest, Sessions | When TBD Where TBD Bring – Type Session Skill All Speaker Katrin Eismann. Sponsored by Sony. Travel lighter and make better images! Less is more! You'll learn how to: Import & manage camera files into a tablet, … | Katrin Eismann, Lightroom, Skill:All, Sony |
| Enhance Your Images for Competition | General Interest, Sessions | Type Session When Double length session Where TBD Bring – Skill All Speaker William Barnett In this master class we will look at a series of your photographs. We will talk about things that could have been … | Skill:All, William Barnett |
| Multimedia for Storytelling – Hybrid Imaging Made Easy! | General Interest, Sessions | When Planning two sessions Where TBD Bring – Type Session Skill All Speaker Suzette Allen & Jon Yoshinaga. Sponsored by Panasonic Lumix. Learn how to incorporate video with your still images & make your storytelling skills … | Jon Yoshinaga, Panasonic Lumix, Skill:All, Suzette Allen |
| Time-lapse Imagery | Creativity, Sessions | When Planning two sessions Where TBD Bring – Type Session Skill All Speaker Shiv Verma APSA, MNEC A time-lapse video essentially compresses time into a smaller space, creating some exceptional and evocative results. In theory, time-lapse … | Shiv Verma, Skill:All |
| Creative Elements of Architecture – Out with the Rules | Creativity, Sessions | When Planning two sessions Where TBD Bring – Type Session Skill All Speaker Frank Smith Frank shares architectural photographs from his perspective and how he captures graphic & architectural details by moving from place to place, a … | Frank T. Smith, Skill:All |
| You Can Paint! Demo | Creativity, Sessions | When TBD Where TBD Bring – Type Session Skill IntermediaeSpeaker Sarah Musumeci MNEC Join Sarah for a 'step by step' demo on how to create a masterpiece using Corel's Painter Program. Sarah will demonstrate the 'prep work … | Photoshop, Sarah Musumeci, Skill:Intermediate |
| Pictures to Paintings – Landscapes | Creativity, Sessions | When TBD Where TBD Bring – Type Session Skill All Speaker Sarah Musumeci MNEC After you have completed your standard Photoshop techniques on your favorite image, take another giant step to enhance your picture by adding oil, water … | Photoshop, Sarah Musumeci, Skill:Intermediate |
| Daytime Long Exposure Photography | Creativity, Sessions | When Planning two sessions Where TBD Bring – Type Session Skill All Speaker Jürgen Lobert. Sponsored by NESOP. An introduction to daytime long exposure (DLE) photography. DLE records 1-15 minutes of time by using neutral density … | Jürgen Lobert, NESOP, Skill:All |
| Light Painting and Drawing at Night | Creativity, Sessions | When TBD Where TBD Bring – Type Session Skill All Speaker Jürgen Lobert. Sponsored by NESOP. This is an instructional & technical program to introduce photographers to light painting and light drawing at night. Light painting … | Jürgen Lobert, NESOP, Skill:All |
| Creative, Interpretive Artistic Techniques In-camera | Creativity, Sessions | When TBD Where TBD Bring – Type Session Skill All Speaker Jamie Konarski Davidson For the artist at heart – Jamie will share creative ways to interpret subjects in-camera that go beyond what the subject is and … | Jamie Konarski Davidson, Lensbaby, Skill:All |
| Expanding Your Creativity with Time & Motion Techniques | Creativity, Sessions | When Planning two sessions Where TBD Bring – Type Session Skill All Speaker Lewis Kemper Going beyond the static still image you can create amazing photographs applying time and motion techniques to your still images. Using … | Lewis Kemper, Skill:All |
| Light Painting: Angles & Lights & Cars, Oh My! | Creativity, Sessions | When Planning two sessions Where TBD Bring – Type Session Skill All Speaker Jerry Keefer and Lori Keefer Do you want to create awe-inspiring portraits of cars, trucks or motorcycles? Join Jerry & Lori as they talk … | Jerry Keefer, Lori Keefer, Skill:All |
| Creating Still Life & Food Photographs with Pizazz | Creativity, Sessions | When Planning two sessions Where TBD Bring – Type Session Skill All Speaker Gerri Jones Create Food and Still Life images with natural light by setting up a small studio space in your home. How to use … | Gerri Jones, Skill:All |
| Creative Flower Photography – Part 1 | Creativity, Sessions | When TBD Where TBD Bring – Type Session Skill All Speaker Padma Inguva Padma will share information about some of her techniques in creating stunning flower portraits. Some of these techniques include selective focus, back lighting, bokeh, … | Padma Inguva, Skill:All |
| Infrared photography | Creativity, Sessions | When Planning two sessions Where TBD Bring – Type Session Skill All Speaker Mark Hilliard Infrared photography has a huge following and grows ever more popular each day! While mastering it, things seem difficult, but in … | Mark Hilliard, Skill:All |
| Capturing Stunning Images of…Most Beloved Flowers Year-Round: Waterlilies, Tulips, Dahlias and Orchids | Creativity, Sessions | When TBD Where TBD Bring – Type Session Skill All Speaker Anne Belmont. Sponsored by Lensbaby. Creative flower photography can be pursued year-round. We will explore photographing some of the most beloved of flowers – tulips, waterlilies, dahlias … | Anne Belmont, Lensbaby, Skill:All |
| Creative Flower Photography – Unleashing the Creative Spirit through the Magic of Lensbaby | Creativity, Sessions | Type Session When Planning two sessions Where TBD Bring– Skill All Speaker Anne Belmont. Sponsored by Lensbaby. Learn to see and photograph flowers in a whole new artistic and creative way. Explore the essentials for capturing flowers as … | Anne Belmont, Lensbaby, Skill:All |
| How to Create Still Life Images with Impact | Creativity, Sessions | When Planning two sessions Where TBD Bring – Type Session Skill All Speaker Mark Battista Mark will share his approach for creating images that tell a story & express a mood. Topics covered will include suggested gear, … | Mark Battista, Skill:All |
| Composition with a Painterly Approach | Creativity, Sessions | When TBD Where TBD Bring – Type Session Skill All Speaker Mark Battista Mark will share his insight on composition to create images that tell a story, effectively communicate an idea and express an emotion. Be inspired … | Mark Battista, Skill:All |
| Special Effects Photo Walk with Katrin Eismann | Activities, Photo Walk | When Sun 7:00 am – 8:00 am Where TBD Bring Camera Type Photo Walk – PW13 Skill All Speaker Katrin Eismann. Sponsored by Sony. The theme of this Photo Walk will be creating special effecting without Photoshop. Sony will loan … | Hands-on, Katrin Eismann, Skill:Intermediate, Sony |
| Landscape & Water Photo Walk with Kurt Budliger | Activities, Photo Walk | When Sun 7:00 am – 8:00 am Where TBD Bring Camera Type Photo Walk – PW12 Skill All Speaker Kurt Budliger Kurt's specialty is water and landscape. Register early to get your choice for workshops, photo walks, dorms … Click … | Hands-on, Kurt Budliger, Skill:All |
| Artistic Voice Photo Walk with Karen Hutton | Activities, Photo Walk | When Sun 7:00 am – 8:00 am Where TBD Bring Camera Type Photo Walk – PW11 Skill All Speaker Karen Hutton. Sponsored by Fujifilm. The theme of this Photo Walk will be discovering the soul-vibrancy of your photographic artistic voice. … | Fujifilm, Hands-on, Karen Hutton, Skill:All |
| Impact Photo Walk with Lewis Kemper | Activities, Photo Walk | When Sun 7:00 am – 8:00 am Where TBD Bring Camera Type Photo Walk – PW10 Skill All Speaker Lewis Kemper Lewis will share his approach to photography, light, lenses and how to capture images with impact. Register early to … | Hands-on, Lewis Kemper, Skill:All |
| Nikon Photo Walk with Jim Montanus | Activities, Photo Walk | When Sun 7:00 am – 8:00 am Where TBD Bring Camera Type Photo Walk – PW9 Skill All Speaker Jim Montanus. Sponsored by Nikon. The theme of this Photo Walk will be Nikon cameras and lenses. Nikon will loan equipment overnight … | Hands-on, Jim Montanus, Nikon, Skill:All |
| Fast Glass Photo Walk with Marc Farb | Activities, Photo Walk | When Sun 7:00 am – 8:00 am Where TBD Bring Camera Type Photo Walk – PW8 Skill All Speaker Marc Farb. Sponsored by Sigma. The theme of this Photo Walk will be Fast Glass using Sigma lenses. Sigma will loan equipment overnight for … | Hands-on, Marc Farb, Sigma, Skill:All |
| Creative Expression Photo Walk with Chris Murray | Activities, Photo Walk | When Sun 7:00 am – 8:00 am Where TBD Bring Camera Type Photo Walk – PW7 Skill All Speaker Chris Murray. Sponsored by ADKPI. Chris will share how he sees the world. In relation to creating images that are … | ADKPI, Chris Murray, Hands-on, Skill:All |
| Extended Dynamic Range Photo Walk with Sean Bagshaw | Activities, Photo Walk | When Sun 7:00 am – 8:00 am Where TBD Bring Camera Type Photo Walk – PW6 Skill All Speaker Sean Bagshaw The theme of this Photo Walk will be extended dynamic range. What to look for and how to … | Hands-on, Sean Bagshaw, Skill:All |
| Panasonic Lumix Photo Walk with Suzette Allen & Jon Yoshinaga | Activities, Photo Walk | When Sun 7:00 am – 8:00 am Where TBD Bring Camera Type Photo Walk – PW5 Skill All Speaker Suzette Allen & Jon Yoshinaga. Sponsored by Panasonic Lumix. The theme of this Photo Walk will be hybrid … | Hands-on, Jon Yoshinaga, Panasonic Lumix, Skill:All, Suzette Allen |
| Architecture Photo Walk with Frank Smith | Activities, Photo Walk | When Sun 7:00 am – 8:00 am Where TBD Bring Camera Type Photo Walk – PW4 Skill All Speaker Frank Smith The theme of this Photo Walk will be Architecture. Register early to get your choice for … | Frank T. Smith, Hands-on, Skill:All |
| Infrared Photo Walk with Jamie Konarski Davidson & Mark Hilliard | Activities, Photo Walk | When Sun 7:00 am – 8:00 am Where TBD Bring Mobile device Type Photo Walk – PW3 Skill All Speaker Jamie Konarski Davidson & Mark Hilliard The theme of this Photo Walk is infrared photography. Register … | Hands-on, Jamie Konarski Davidson, Mark Hilliard, Skill:All |
| Mobile Device Photo Walk with Michael Koren | Activities, Photo Walk | When Sun 7:00 am – 8:00 am Where TBD Bring Mobile device Type Photo Walk – PW2 Skill All Speaker Michael Koren The theme of this Photo Walk will be Mobile Devices. Register early to get your … | Hands-on, Michael Koren, Skill:All |
| iPhone Photo Walk with Rad Drew | Activities, Photo Walk | When Sun 7:00 am – 8:00 am Where TBD Bring iPhone or other smartphoneType Photo Walk – PW1 Skill All Speaker Rad A. Drew The theme of this Photo Walk will be iPhones. Register early to get … | Hands-on, Rad Drew, Skill:All |
| Selecting & Improving Images for Competition | Sessions, Workshop | When Sat 8:00 am Where TBD Bring Send digital photos or just watch Type Conference Workshop – CW14 Skill All Speaker William Barnett APSA, MNEC Cost No charge for registrations before June 21st. $52 after June 21st. Registration closes on July 7th. First … | Image Reviews, Skill:All, William Barnett |
| Night Photo Shoot | Sessions, Workshop | When Fri 8:30 pm Where Outside Bring Camera and Tripod Type Conference Workshop – CW13 Skill All Speaker Shiv Verma APSA, MNEC Cost No charge for registrations before June 21st. $52 after June 21st. Registration closes on July … | Hands-on, Shiv Verma, Skill:All |
| Vertorama Chapel Interactive Demo | Sessions, Workshop | When Sun 11:30 am Where TBD Bring Camera Type Conference Workshop – CW11 Skill All Speaker Padma Inguva Cost No charge for registrations before June 21st. $52 after June 21st. Registration closes on July 7th. This is a follow-up opportunity to … | Hands-on, Padma Inguva, Skill:All |
| Night Photo Shoot – Live Composite | Sessions, Workshop | When Fri 8:30 pm Where TBD Bring Camera and Tripod Type Conference Workshop – CW12 Skill Intermediate Speaker Peter Baumgarten. Sponsored by Olympus. Cost No charge for registrations before June 21st. $52 after June 21st. Registration closes on July 7th. TBD Peter Baumgarten … | Hands-on, Olympus, Peter Baumgarten, Skill:Intermediate |
| Night Photo Shoot – Light Painting | Creativity, Sessions, Workshop | When Fri 9:00 pm Where TBD Bring Camera and Tripod Type Conference Workshop – CW10 Skill Intermediate Speaker Jürgen Lobert and Elizabeth (Lisa) Ryan. Sponsored by NESOP. Cost $42. After June 21 $52. TBD Jürgen Lobert & Elizabeth Ryan Events | Elizabeth (Lisa) Ryan, Hands-on, Jürgen Lobert, NESOP, Skill:Intermediate |
| Lightroom Laptop | Sessions, Workshop | When Fri 2:00 pm – 5:00 pm Where TBD Bring Computer with Lightroom Type Conference Workshop CW9 Skill Intermediate Speaker Kurt Budliger Cost $42. After June 21 $52. Adobe Lightroom has been a critical part of my imaging workflow – how I perfect … | Kurt Budliger, Skill:Intermediate |
| Macro Photo Shoot | Sessions, Workshop | When Sat 12:30 pm – 1:30 pm, Sat 1:45 pm – 2:45 pm or Sat 3:30 pm to 4:30 pm Where TBD Bring Camera and tripod Type Conference Workshop – CW6, CW7, CW8 Skill All Speaker Steve Gettle. Sponsored by Cognisys. … | Cognisys, Hands-on, Sigma, Skill:All, Steve Gettle |
| HDR – Next Generation | Sessions, Workshop | When Fri 12:30 pm – 3:30 pm Where TBD Bring Camera and tripod, Computer with Photoshop? Type Conference Workshop – CW5 Skill Intermediate Speaker Jim Montanus. Sponsored by Nikon. Cost $42. After June 21 $52. High dynamic range (HDR) photography techniques turned … | Hands-on, Jim Montanus, Nikon, Skill:Intermediate |
| Rembrandt Lighting | Sessions, Workshop | When Fri 12:30 pm – 3:30 pm Where TBD Bring Camera Type Conference Workshop – CW4 Skill All Speaker Mark Battista Cost $42. After June 21 $52. Rembrandt lighting is a lighting technique that is used in studio portrait photography. It can be … | Hands-on, Mark Battista, Skill:All |
| Posing & Lighting | Sessions, Workshop | When Sat 12:45 pm – 4:30 pm or Sun 8:30 am – 12:00 pm Where TBD Bring Camera Type Conference Workshop – CW2 & CW3 Skill All Speaker Ed Pedi Cost $42. After June 21 $52. Bring your camera and let … | Ed Pedi, Hands-on, Skill:All |
| Conference Image Review | Sessions, Workshop | When Fri 1:00 pm – 4:30 pm, Sat 8:30 am – 4:30 pm, during the conference Where Time, location and reviewer info for the 45 minute review will be emailed to you by … | Adam Jones, Anne Belmont, Chris Murray, David Akoubian, Image Reviews, Jamie Konarski Davidson, Jerry Keefer, Jim Montanus, Karen Hutton, Kristi Odom, Kurt Budliger, Lewis Kemper, Lori Keefer, Mark Hilliard, Sean Bagshaw, Skill:All |
| Kristi Odom | Speakers | Kristi Odom Washington D.C. Learn More Kristi joined Nikon's elite Ambassador program in May of 2018. An internationally acclaimed photographer and sought-after motivational speaker, Kristi travels the world shooting, teaching and sharing … | Kristi Odom |
| Pre-Conference Image Critique | Pre-Conference | When Fri morning, 45-minute session Where TBD Bring Your prints or digital images Type Pre-Conference Image Critique – #0 Skill Level All Speaker William Barnett, Sarah Musumeci and Jake MosserCost $42 This is your opportunity to have up to 15 images (prints and/or digital) reviewed … | Image Reviews, Jacob Mosser, Sarah Musumeci, Skill:All, William Barnett |
| Advanced Camera Techniques & Tips to Win Awards | Pre-Conference, Sessions, Workshop | When Fri 8:30 am – 11:30 am Where TBD Bring TBD Type Pre-Conference Workshop – #1Skill All Speaker Kristi Odom. Sponsored by Nikon. Cost $70, after Jun 21 $90 Camera technology is moving so fast; unlock the potential of what your … | Hands-on, Kristi Odom, Nikon, Skill:All |
| Finding Your Artistic Voice | Pre-Conference, Sessions, Workshop | When Fri 8:30 am – 11:30 am Where TBD Bring – Type Pre-Conference Workshop – #2 Skill All Speaker Karen Hutton. Sponsored by Fujifilm. Cost $70, after Jun 21 $90 Your artistic voice is uniquely your own. When used to its fullest, … | Fujifilm, Karen Hutton, Skill:All |
| Put Them in a Beautiful Light: Portrait Lighting Workshop | Pre-Conference, Sessions, Workshop | When Fri 6:45 am – 9:00 am Where TBD Bring Camera Type Pre-Conference Workshop – #4 Skill All. You must be able to stand during the second portion of this workshop. Speaker Suzette Allen & Jon Yoshinaga. Sponsored by … | Hands-on, Jon Yoshinaga, Panasonic Lumix, Skill:All, Suzette Allen |
| Beyond the Frame: Embracing 'what if' for Creative Post-Processing | Pre-Conference, Sessions, Workshop | When Fri 8:30 am – 11:30 am Where TBD Bring Laptop with Photoshop CC and Topaz Labs Studio (Impression, Texture Effects & Black/White Effects) Type Pre-Conference Workshop – #6 Skill Intermediate Photoshop knowledge, including layers Speaker Jamie Konarski Davidson Cost $70, … | Hands-on, Jamie Konarski Davidson, Photoshop, Skill:Intermediate, Topaz Labs |
| Embracing 'what if' for Creative post-processing | Pre-Conference, Sessions, Workshop | When Fri 8:30 am – 11:30 am Where TBD Bring SD card and tripod. Olympus will provide the cameras. Type Pre-Conference Workshop Skill All. You must be able to walk and stand during this workshop. Speaker Peter Baumgarten. … | Hands-on, Olympus, Peter Baumgarten, Skill:All |
| Creating Highly Stylized Images in Topaz Studio | Pre-Conference, Sessions, Workshop | When Fri 8:30 am – 11:30 am Where TBD Bring Laptop with Photoshop CC and Topaz Labs ReMask and Studio (AI Clear, Texture Effects & Black/White Effects Type Pre-Conference Workshop – #8Skill Intermediate Photoshop knowledge, including layers Speaker Rad A. … | Hands-on, Photoshop, Rad Drew, Skill:Intermediate, Topaz Labs |
| The Hadley Farm – Horses, Animals, & Barns | Pre-Conference, Sessions, Workshop | When Fri 8:30 am – 11:30 am Where UMass Hadley Farm Bring Camera with 24-105mm or 70-200mm type lens. No tripods allowed. Type Pre-Conference Workshop – #9Skill All. You must be able to walk and stand during this 3-hour … | Adam Jones, Canon, Hands-on, Skill:All |
| Photograph Birds of Prey and Raptors | Pre-Conference, Sessions, Workshop | When Fri 8:30 am – 11:30 am Where Outside near Campus Center, weather permitting. Bring Camera. Tamron lenses will be available to use. Type Pre-Conference Workshop – #10 Skill All. You must be able to walk and … | David Akoubian, Hands-on, Skill:All, Tamron |
| Character Models | Pre-Conference, Sessions, Workshop | When Fri 8:30 am – 11:30 am Where TBD Bring Camera. Sigma will have lenses to try out. Type Pre-Conference Workshop – #12Skill All. You must be able to walk and stand during this 3-hour workshop. Speaker Marc … | Character Models, Hands-on, Marc Farb, Sigma, Skill:All, Westcott |