| | |
| --- | --- |
| When | Fri 8:30 am – 11:30 am |
| Where | Listed in your workshop registration info |
| Bring | Camera |
| Type | Pre-Conference Workshop – #4 |
| Skill | All. You must be able to stand during the second portion of this workshop. |
| Speaker | Suzette Allen & Jon Yoshinaga. Sponsored by Panasonic Lumix. |
| Cost | $70, after Jun 21 $90 |
Light is the key factor that makes or breaks an image, but the quality and properties of light for great PORTRAITS is very different from the best light for landscapes, travel or general photography! Learn the vital skills of seeing and creating beautiful light for people and faces with Portrait Artist and Lumix Ambassador, Suzette Allen. Knowing how to light a face and recognizing good portrait light is key, but also modifying light and harnessing the elements of nature and architecture to refine it, is a vital skill for any environmental photographer. They will share their best techniques for environmental lighting and posing in an engaging presentation and show you how to not only recognize good lighting but know how to modify light with reflectors, scrims, buildings, cement… whatever it takes! She will talk about light direction, diffusion, time of day, some posing and clothing tips, and even a little segment on filming video for storytelling and dynamic Live Portraits. Then, for the second half of the class, there will be a LIVE STUDIO DEMO with continuous lighting to help you visualize & create good portrait light and then capture it with your camera. Bring a camera to get some hands-on portrait experience!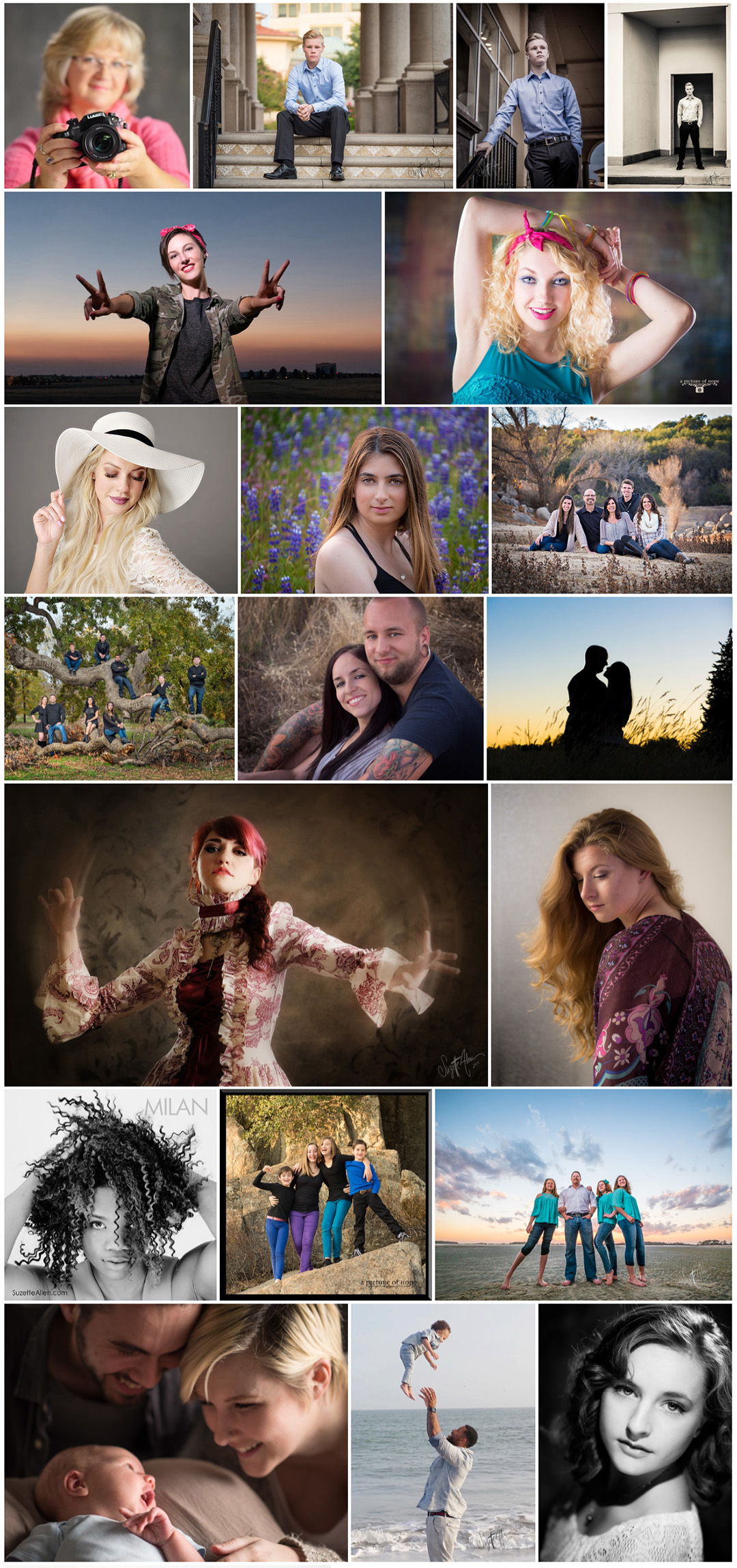 Suzette Allen & Jon Yoshinaga Events
| Title | Categories | Content | Tags |
| --- | --- | --- | --- |
| Suzette Allen & Jon Yoshinaga | Speakers | Suzette Allen & Jon Yoshinaga California Learn More Suzette, a Lumix Ambassador and Adobe Influencer, is a long-time Photoshop instructor (18 years) and Hybrid pioneer who continues to reinvent herself to stay … | Jon Yoshinaga, Panasonic Lumix, Suzette Allen |
| Make the Magic! Composites with Complexity & Creativity | Digital, Sessions | When Sun 10:00 am – 12:30 pm (double session) Thompson 102 Bring – Type Session Skill Advanced Speaker Suzette Allen & Jon Yoshinaga. Sponsored by Panasonic Lumix. Compositing is a modern-day skill that is … | Jon Yoshinaga, Panasonic Lumix, Skill:Advanced, Suzette Allen |
| Multimedia for Storytelling – Hybrid Imaging Made Easy! | General Interest, Sessions | When Fri 4:00 pm – 5:00 pm Campus Center Auditorium, Sat 8:00 am – 9:00 am Hasbrouck Bring – Type Session Skill Beginner, Intermediate Speaker Suzette Allen & Jon Yoshinaga. Sponsored by Panasonic Lumix. … | Jon Yoshinaga, Panasonic Lumix, Skill:Beginner, Skill:Intermediate, Suzette Allen |
| Panasonic Lumix Photo Walk with Suzette Allen & Jon Yoshinaga | Activities, Photo Walk | When Sun 7:00 am – 8:00 am Where Listed in your photo walk registration info Bring Camera Type Photo Walk – PW5 Skill All Speaker Suzette Allen & Jon Yoshinaga. Sponsored by Panasonic Lumix. The theme … | Hands-on, Jon Yoshinaga, Panasonic Lumix, Skill:All, Suzette Allen |
| Put Them in a Beautiful Light – Portrait Lighting Workshop | Pre-Conference, Sessions, Workshop | When Fri 8:30 am – 11:30 am Where Listed in your workshop registration info Bring Camera Type Pre-Conference Workshop – #4 Skill All. You must be able to stand during the second portion of this workshop. Speaker Suzette … | Hands-on, Jon Yoshinaga, Panasonic Lumix, Skill:All, Suzette Allen |